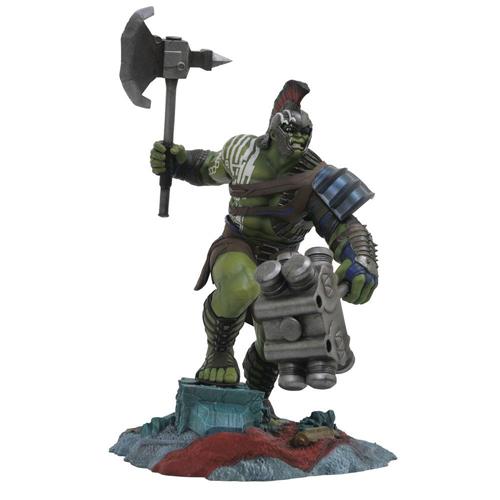 Thor Ragnarok Marvel Gallery PVC Statue Hulk
Diamond Select
The Thor: Ragnarok movie has brought us one of the most exciting Hulk looks ever, and this Marvel Gallery PVC Diorama captures him at his most enraged! Measuring approximately 30 cm tall, this sculpture of a fully armoured Hulk wielding twin weapons is the must-have collectable from Thor: Ragnarok. Featuring detailed sculpting and paint applications, this 9-inch scale diorama comes packaged in a full-colour window box and is in scale to all other Gallery and Femme Fatales figures. Sculpted by Rocco Tartamella!
30-day returns - view returns policy
Standard delivery:
UK Mainland - £2.99, free on orders over £20
Northern Ireland, Scottish Highlands & Islands - £3.99, free on orders over £30
Europe - £9.99
Rest of World - £34.99
Payment is taken in advance when placing pre-orders. You can, however, cancel your order for a full refund if you change your mind.
Pre-order dates are subject to change depending on suppliers. We will notify you by email regarding any such changes.
Pre-orders may also be subject to availability. In the event that we are unable to procure an item, your order will be cancelled and fully refunded. We will update you via email if this is the case.
With the exception of mystery products, there is a limit of 3 units per customer for each pre-order item. If an order exceeds this amount, the excess will be cancelled and refunded.
Please note: Any order for Funko/Loungefly products that has been delayed more than 3 times will be cancelled and refunded in full. This is due to the unreliability of Funko dates and we simply don't wish to drag this out for customers.
If you have any problems or are unsure about anything, please contact support@totostoybox.com
If you would like to make partial payments, you can split the cost over a 12 month period by selecting the offline payment option during checkout. You will receive an invoice for a 10% down-payment and 5% non-refundable admin fee, which must be paid within 24 hours to reserve your items. 
You will also receive a second invoice for the remainder that can be paid off in instalments to suit you within 12 months of placing the order. You will receive monthly reminders of your outstanding balance. 
Orders will only be dispatched once they have been paid off in full. 
Payments should be made via bank transfer to the account specified on your invoice. Please ensure you include your invoice reference when making any payments.
Failure to make the initial payment within 24 hours and the remainder within 12 months will result in the cancellation of your order.
If you need help, please contact support@totostoybox.com.