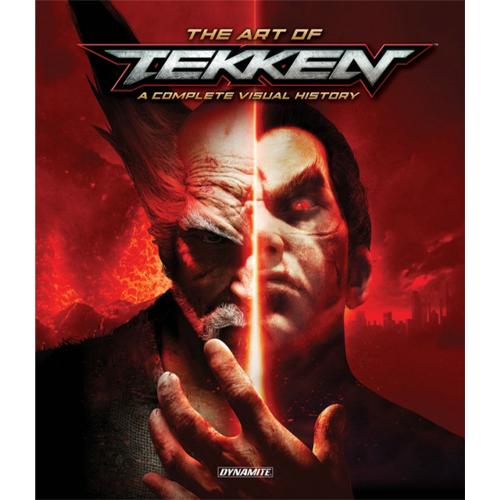 The Art of Tekken: A Complete Visual History HC
Dynamite Entertainment
Twenty-five years ago, Namco released Tekken and redefined the fighting game genre in three dimensions. Known for its deep gameplay, cutting edge graphics, and operatic lore, Tekken has become synonymous with the PlayStation brand while remaining one of the last vestiges of the arcade. The Art of Tekken: A Complete Visual History follows the series history through a visual feast of iconic games and characters, as well as in-depth interviews with the Bandai Namco developers who made it a reality and the players who made it a phenomenon on its way to becoming one of the best-selling fighting game series in history. It's a complete visual retrospective of one of the most indispensable parts of gaming history, over a quarter century in the making, including art from all seven games of the franchise and more. 
Author: Jerald Hull
Format: Hardback, 250 pages
ISBN: 9781524107734 
Dimensions: 254 x 288 x 19 (mm) 
30-day returns - view returns policy
Standard delivery:
UK Mainland - £2.99, free on orders over £20
Northern Ireland, Scottish Highlands & Islands - £3.99, free on orders over £30
Europe - £9.99
Rest of World - £34.99
If you would like to make partial payments, you can split the cost over a 12 month period by selecting the offline payment option during checkout. You will receive an invoice for a 10% down-payment and 5% non-refundable admin fee, which must be paid within 24 hours to reserve your items. 
You will also receive a second invoice for the remainder that can be paid off in instalments to suit you within 12 months of placing the order. You will receive monthly reminders of your outstanding balance. 
Orders will only be dispatched once they have been paid off in full. 
Payments should be made via bank transfer to the account specified on your invoice. Please ensure you include your invoice reference when making any payments.
Failure to make the initial payment within 24 hours and the remainder within 12 months will result in the cancellation of your order.
If you need help, please contact support@totostoybox.com.