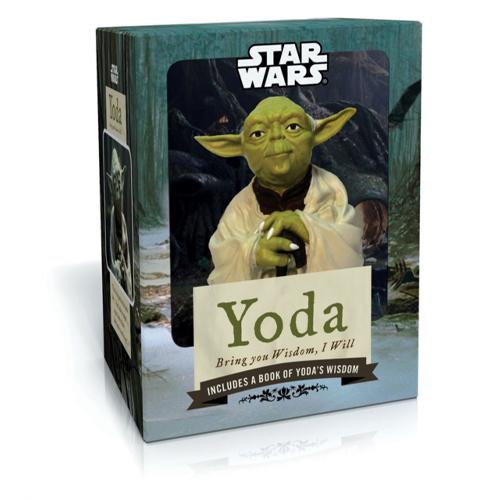 Star Wars Yoda: Bring You Wisdom, I Will.
Chronicle Books
Yoda, the ultimate Sensei, will bring wisdom to your life. A statue in a box ala The Laughing Buddha Box, and complete with a booklet of inspirational quotes, a customizable backdrop, and stickers with select quotes, this will appeal to a wide range of Star Wars fans. This one of a kind, hand-painted figurine captures the essence of Yoda's wisdom and appeal.
Our statue-in-a-box format lends itself perfectly to the small sensei. Box includes customizable backdrop that allows Yoda fans to place the sensei in an ideal environment for transmitting wisdom, and two sheets of stickers with selected quotes. Frank Parisi (author of the introduction) is an editor at Lucasfilm and Star Wars expert (both original films and new series).
He is the author of The Art of Star Wars: The Clone Wars and the upcoming The Art of TOR.
Dimensions: 130 x 104 x 80 (mm)
30-day returns - view returns policy
Standard delivery:
UK Mainland - £2.99, free on orders over £20
Northern Ireland, Scottish Highlands & Islands - £3.99, free on orders over £30
Europe - £9.99
Rest of World - £34.99
If you would like to make partial payments, you can split the cost over a 12 month period by selecting the offline payment option during checkout. You will receive an invoice for a 10% down-payment and 5% non-refundable admin fee, which must be paid within 24 hours to reserve your items. 
You will also receive a second invoice for the remainder that can be paid off in instalments to suit you within 12 months of placing the order. You will receive monthly reminders of your outstanding balance. 
Orders will only be dispatched once they have been paid off in full. 
Payments should be made via bank transfer to the account specified on your invoice. Please ensure you include your invoice reference when making any payments.
Failure to make the initial payment within 24 hours and the remainder within 12 months will result in the cancellation of your order.
If you need help, please contact support@totostoybox.com.