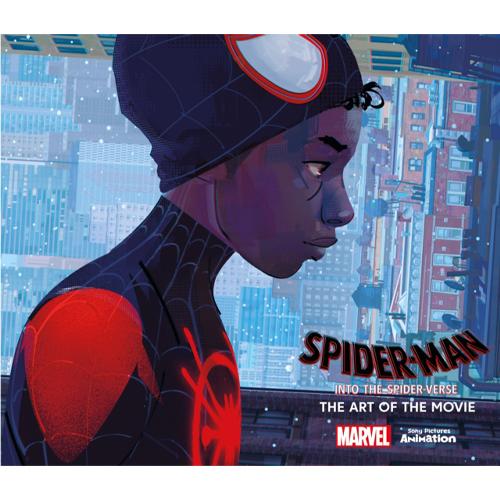 Spider-Man: Into the Spider-Verse - The Art of the Movie
Titan Books
Phil Lord and Christopher Miller, the creative minds behind The Lego Movie and 21 Jump Street, bring their unique talents to a fresh vision of a different Spider-Man Universe, with a groundbreaking visual style that's the first of its kind. Spider-Man: Into the Spider-Verse introduces Brooklyn teen Miles Morales, and the limitless possibilities of the Spider-Verse where more than one wears the mask. Unmasking the artistry behind the popular movie, Spider-Man: Into the Spider-Verse The Art of the Movie contains concept art, sketches, storyboards and will give you fascinating insights into the creative process.

With exclusive commentary from the creators, plus a foreword written by Brian Michael Bendis, this extraordinary collection of art will take readers into the Spider-Verse.
Author: Ramin Zahed
Format: Hardback, 192 pages
Publisher: Titan Books Ltd
ISBN: 9781785659461 
Dimensions: 285 x 313 x 26 (mm) 
30-day returns - view returns policy
Standard delivery:
UK Mainland - £2.99, free on orders over £20
Northern Ireland, Scottish Highlands & Islands - £3.99, free on orders over £30
Europe - £9.99
Rest of World - £16.99
If you are placing a high-value order, you can split the cost over a 12 month period by selecting the offline payment option during checkout. You will receive an invoice for a 10% down-payment and 5% non-refundable admin fee, which must be paid within 24 hours to reserve your items. 
The remainder can be paid off in instalments to suit you within 12 months of placing the order. You will receive monthly reminders of your outstanding balance. 
Orders will only be dispatched once they have been paid off in full. 
Payments should be made via bank transfer to the account specified on your invoice. Please ensure you include your invoice reference when making any payments.
Failure to make the initial payment within 24 hours and the remainder within 12 months will result in the cancellation of your order.
If you need help, please contact support@totostoybox.com.